Welcome to Kramfors, in the centre of the High Coast!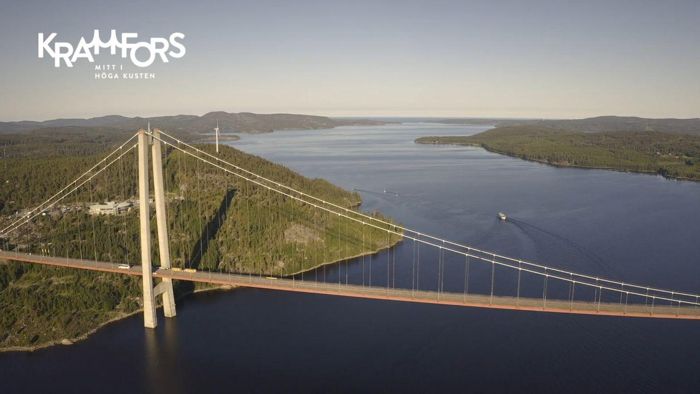 Imagine living by the sea, near the forest or by the river's sparkling water. In Kramfors we do that. We have a unique nature, many smaller towns and good communications that together create a wholeness. There are good career opportunities, creative entrepreneurship and attractive accommodation.
A move to a new city, municipality or even a new country means new opportunities but also major changes. We are at hand for you who want to move to Kramfors or who are interested in what our municipality has to offer.

More information about Kramfors municipality
Read about accommodation in i Kramfors (Swedish page)
Read about vacant plots in Kramfors (Swedish page)
Read about vacancies at Kramfors municipality (Swedish page)
Here you can find maps over Kramfors municipality
Länk till annan webbplats.
Do you want to get to know a local?
In Kramfors, there is a large number of proud ambassadors that you can get in touch with in order to ask your specific questions about what it is like to live and work in Kramfors. The ambassador network has been formed by people who are proud of and want to tell about all the benefits and strengths of Kramfors municipality.

Here you can read about Kramfors' ambassadors (Swedish page)
Sports, leisure and community
Here is a wonderful mix of everything. Art, hunting, sports, music, sport fishing, skiing and kayaking. There are over 300 associations in the municipality. Together, we make a great effort to enable the inhabitants of the municipality to engage in the creative activities they are interested in.
The associations' activities are important to society and there is great variety in the activities that are offered. As part of the beautiful High Coast, the proximity to forests and lakes and a number of sports facilities, you have good conditions for exercise, swimming and a varied outdoor life. Kramfors municipality offers many opportunities for active leisure for both young and old.

Read about association life in Kramfors (Swedish page)
Read about places to visit and activities in Kramfors (Swedish page)
Welcome to us
Feel free to contact us via our customer service.
We look forward to hearing from you!

Uppdaterad: Sidansvarig: Marie Böhlin